Most people associate Indianapolis with the Indianapolis 500, but the city is also recognized for its bookstores. If browsing through shelves of books and cuddling up in a soft chair among the stacks is your idea of a wonderful afternoon, Indianapolis is the place for you. Here are some of the city's best bookstores.
The top 5 Best Bookstores in Indianapolis are:
Indy Reads Books
Indy Reads Books is a local favorite for its quaint store and hundreds of new and used titles, but it also helps to promote literacy in the community for both children and adults. The proprietor is a supporter of local literacy programs and runs a program where you can give books or volunteer. The staff at Indy Reads is nice and helpful, and the store has a wide variety of books to choose from.
Bookmamas
Bookmamas is a locally owned bookstore on Indianapolis Johnson Avenue. This bookstore has over 30,000 new and secondhand books with an emphasis on environmental issues in Indiana and across the world. The Underground 9 Studio is housed in the store, which supports book clubs and hosts book signings. Musical performances, bring-your-own-vinyl nights, and open mic nights are all examples of this. Bookmamas gives information to its clients about the environmental and community benefits of supporting small businesses.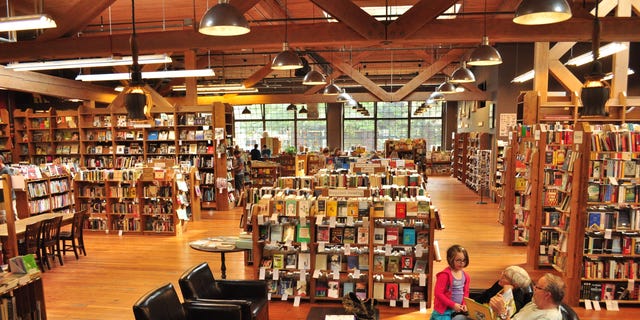 Wild Geese Bookshop
The Wild Geese Book Shop is located just a few miles away in Franklin. This little bookstore, housed in a charming blue cottage, sells new books as well as literary-themed items. Tiffany Lauderdale Phillips, the owner, seeks to provide customers with the best possible experience by hand-selecting books to fill the store's floor-to-ceiling shelves. From poetry to young adult, fiction, and nonfiction, practically every genre of the book may be found here. You'll also find quirky presents including T-shirts with literary themes, kitchen gadgets, coffee mugs, and a variety of locally created items.
Porter Books and Bread
Head to Porter Books and Bread on a chilly winter day or a wet spring day to warm up in one of their comfortable recliners with a hot drink and a nice book. The emphasis at this shop is on locally sourced and homemade foods, but there are also hundreds of old books covering the shelves. You can borrow one of the books or bring your own to read while you're there. You can even bring a book from home and trade it for one of the books available.
Half Price Books
Half Price Books is a bookstore that buys and sells anything that is printed or recorded. Heaps upon stacks of used and new books, DVDs, CDs, vinyl, and much more can be found within. This is the place to go if you're looking for a rare book or a hard-to-find CD. You can visit the store in Indianapolis or explore the internet to see what's available.
If you're looking for a new book to take home, stop by one of these Indianapolis bookstores, grab a cup of coffee, and stay awhile.
THANKS FOR READING
Continue Reading:
Top 5 Best Bookstores in Las Vegas
San Antonio's Top 5 Bookstores
Top Bookstores in Washington, D.C.
7 Best bookstores in Chicago
Where to sell Used Books
Top 5 Bookstores in Utah
8 Best Book Stores in Denver
8 Places Online to Find Free Romance Novels Online
10 Books You Probably Own That Are Now Worth A LOT Of Money
5 Best Erotic Books to Read.
5 Best Bookstores in Nashville, TN
5 Massive Bookstores In The World
4 Best Story Books for kids to Read and Enjoy, In 2022.
4 Best Websites for Buying and Selling Used Books
Top 5 Book Shops to Visit in San Diego