Without a doubt, the Raleigh area is a bookworm's dream! You'll find the perfect setting to discover and enjoy your next great read, from high-tech libraries to independent book shops.
The top Best Reading Spots in Raleigh, N.C. are:
Quail Ridge Books
James B. Hunt Jr. Library
Cary Regional Library
Read With Me
Page 158 Books
So & So Books
Nice Price Books
Reader's Corner
Reader's Corner
Stevens Book Shop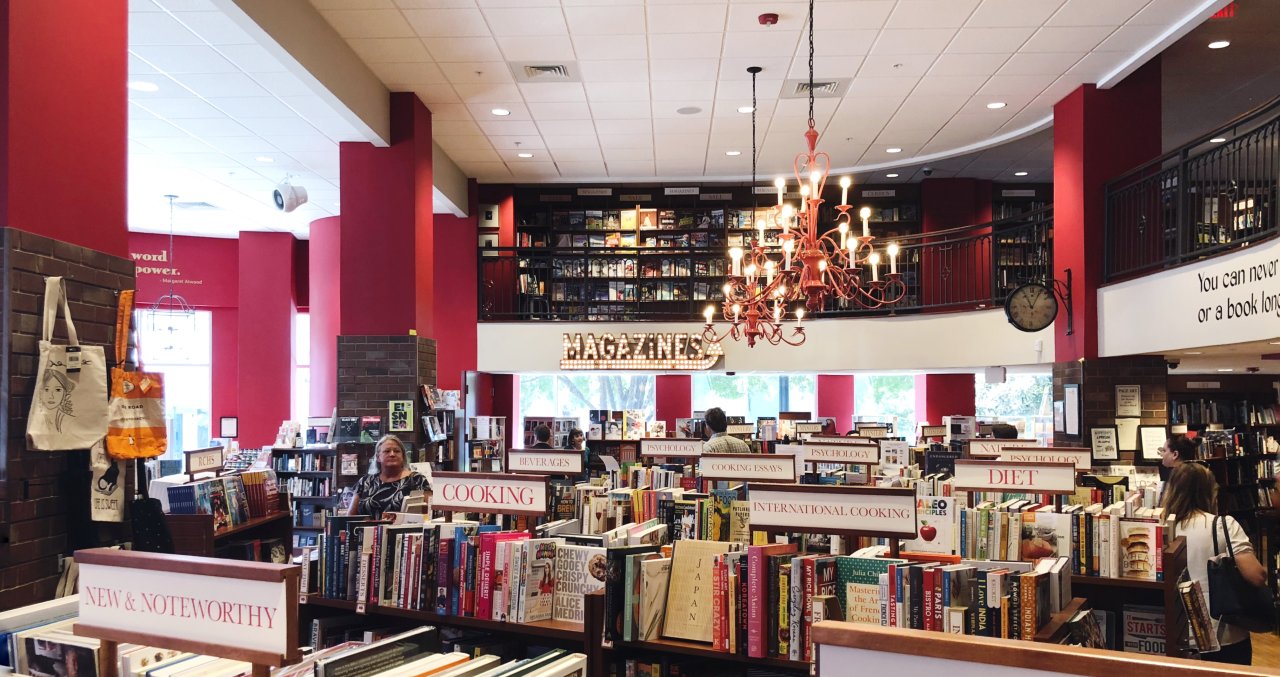 Quail Ridge Volumes is two floors of sheer literary delight, brimming with books from all genres. The shop, which opened in 1984, offers a diverse selection of carefully chosen books as well as hosting a range of events, discussion groups, and town hall meetings. The bookstore's calm buzz of activity, new book fragrance, and friendly, inviting staff will entice visitors to stay for a while. Quail Ridge's award-winning children's department, which has a large selection of kid-friendly books, will also appeal to younger children.
Quail Ridge is cosy in every sense of the term, with a variety of unusual and comfortable seating options. In a cosy little alcove on the second floor, curl up with your favourite classics near a fake fireplace, or plunge into the latest bestseller. Quail Ridge is worth adding to your Raleigh to-do list because of its convenient location in North Hills and sufficient parking.
The James B. Hunt Jr. Library, which opened in 2013, is widely regarded as the world's most advanced library. It was designed to reflect North Carolina State University's position as a leading technology research university. With its interesting design of glass and zigzagging solar fins, the library's architectural architecture stands out as bold and recognisable. Take a stroll inside the public library and be amazed by technical marvels such as curved digital display panels and touchscreen kiosks.
A subterranean robot trained to retrieve books from an underground storage facility is by far the coolest piece of technology in the library. When you go through the Hunt Library's front doors, look to your left to see bookBot, which is housed behind a towering wall of glass. BookBot can zip through 1.5 million volumes on demand and deliver the book of your choosing to the library help desk in five minutes after you submit a digital request.
The new Cary Regional Library, which opened in late 2019, is situated in the heart of downtown Cary, immediately across from the Cary Arts Center and with a view of picturesque Downtown Park. The two-story, 23,000-square-foot library houses 90,000 books, as well as public computers, free wi-fi, programming rooms, and other amenities in a modern, light-filled facility.
Read With Me, a children's book and art business in downtown Raleigh that ignites imagination and promotes creativity, is just steps away from Marbles Kids Museum. Here you'll find a professionally curated assortment of various books for kids of all ages, hand-picked by a knowledgeable and helpful proprietor who adores children's literature.
You and your kids can practise writing and illustration abilities by producing book-themed crafts in the Creativity Corner (located in the back of the store). Read With Me also includes a rotating art exhibit and offers drawing and reading workshops on a regular basis.
Wake Forest's Page 158 Books specialises on general interest adult and children's books, as well as book-related gifts. Page 158 Books offers community activities on a regular basis as a business that is very active in the community. Sue and Dave Lucey, owners of both sites, and their compassionate staff go above and beyond to make you feel at ease. Look for sticky notes from the employees on various book covers as a local tip.
Take a page from the book of a local bibliophile and go to So & So Books to find your next fantastic read. This small, independently owned bookstore in Raleigh's Person St. district stocks a carefully curated collection of titles that are unlikely to be found in big bookstores. Spend some time browsing the books and checking out their book club and reading events schedule.
For almost two decades, Nice Price Books has been a provider of superb pop culture. Records, cassettes, CDs, and, of course, books are all included. A visit to the store, which is located next to the Cup A Joe coffee shop, is like going on a treasure hunt among old school décor and overflowing wooden bookcases. You won't know what kind of awesomeness awaits you until you visit. Nice Price is also a favourite record store in the neighbourhood, offering a well-curated new collection as well as a large range of old records.
If you blink, you may miss Reader's Corner, a modest red brick building. Reader's Corner, located off one of Hillsborough St.'s many roundabouts, is a second-hand music, comics, magazine, and book lover's dream come true! From two bookcases that flank the store's entrance, several page-turners virtually meet you at the door. You can browse, buy, trade, and exchange books at Reader's Corner as much as you like. Local Tip: Go during off-peak hours and go through the one-dollar bookcases outside for some amazing bargains.
For more than 60 years, Stevens Book Shop in North Raleigh has catered to used-book shoppers. The store also sells CDs, VHS tapes, LPs, and audiobooks in addition to its over 500,000 titles. Stevens Book Shop manages to provide adequate space for customers to easily browse its tall stacks, despite having so many books on hand. And if you get lost, the locals will always assist you in finding your way back.
THANKS FOR READING
Continue Reading :
Top 5 Best Bookstores in Las Vegas
San Antonio's Top 5 Bookstores
Top Bookstores in Washington, D.C.
7 Best bookstores in Chicago
Where to sell Used Books
Top 5 Bookstores in Utah
8 Best Book Stores in Denver
8 Places Online to Find Free Romance Novels Online
10 Books You Probably Own That Are Now Worth A LOT Of Money
5 Best Erotic Books to Read.
5 Best Bookstores in Nashville, TN
5 Massive Bookstores In The World
4 Best Story Books for kids to Read and Enjoy, In 2022.
4 Best Websites for Buying and Selling Used Books
Top 5 Book Shops to Visit in San Diego